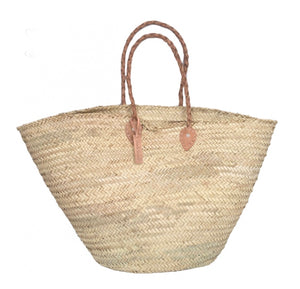 Natural Basket King Size
Shoulder handles of leather braided basket suitable for shopping or hampers.
Can be carried in the hand or worn on the shoulder for comfortable carrying.
Our Baskets are classic French Market Basket.
The perfect choice for shopping trips, picnics, days at the beach.
Not only, they're eco-friendly, they look great in the home for storing toys or magazines.
using palm leaf, they are both sturdy and flexible.
MATERIALS
Basket: Woven Palm Leaves "doumdoum"
Handle: Natural tanning leather handle from Marrakech
ECO-FRIENDLY AND MANUFACTURING PROCESSES
Manufactured by hand 
Handwoven in Morocco
Handmade and so are completely unique and very slightly different in size
Ethical and eco-friendly alternative to plastic bags.